To get the rest of this free white paper, please click here.
Improving the Customer Experience
An extract from
Call Center Strategies 2013

, a new research report published by the Ascent Group, Inc.

The Customer Experience has become the mantra for many companies in their quest to improve performance or increase market share. The Customer Experience is defined most simply as the connection that companies make with customers. Research shows that positive customer experiences encourage customer loyalty, repeat business, personal recommendations, and so on. The companies that are most successful at delivering a good customer experience have encouraged and enabled a customer-centric culture across every part of the company.

The traditional Customer Care or Customer Contact Center plays a key role in service delivery, interacting with customers by phone, email, chat, and through written correspondence, as well as providing self-service options on the web and phone. A customer's experience and satisfaction or dissatisfaction is shaped through all these touch points—it can be one event or the sum of several recent events. With every interaction, customers assess whether your company makes their life easier or provides any value. Customer Contact organizations are now realizing the importance of aligning internal goals and measurements with the customer's goals and expectations—measuring the "customer experience" rather than what the company thinks is important.

To improve the customer experience, all touch point experiences should be as smooth and satisfying as possible for most customers—make it easy to do business with your company. While this sounds simple, it requires an understanding of the steps customers must take to transact business, the number of times they must contact your company, be transferred to the right representative, circle through your automated answering system to find the right prompt, fill out applications or forms, send in payments, visit your website to find a piece of information, or follow-up to make sure something was done. All of these interactions influence the experience and the likelihood that customers will or will not want to continue to do business with you. A measurement of customer effort correlates very highly with customer satisfaction.

Customer Effort Scoring examines the customer experience, as measured by the amount of effort that a customer must expend to interact with a company—how easy or hard it is to do business with a company. The Customer Effort Score can be used to measure the customer experience for phone, chat, field, and face-to-face customer interactions, specifically determining:

• How easy or hard it is for customers to reach a company representative, or go to a company location?

• How much effort does it take to sign up for service, make a payment, or inquire about a charge on a bill?

• Are self-service options easy to use?

• How many times do customers have to contact you to resolve their issues or questions?

A Customer Effort Score can be calculated for each interaction—the higher the customer effort score, the lower the customer satisfaction and first call resolution. Customer Effort Scoring is a powerful way to identify systematic issues and problems that may or may not be captured through individual call monitoring and/or one-off post-call customer satisfaction surveys. Segmenting customer effort scoring by transaction type provides further intelligence to diagnose process bottlenecks and constraints, handoffs, and other service failures that can ruin the customer experience.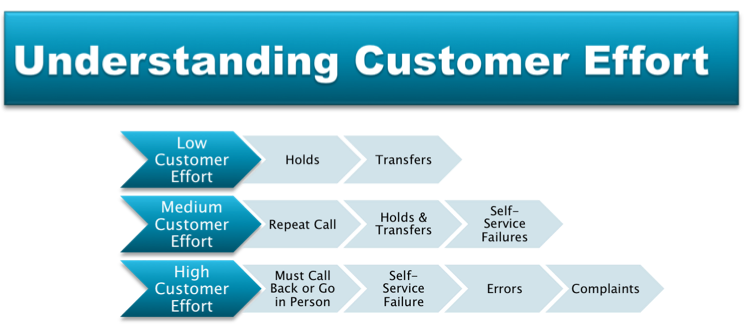 The real power of Customer Effort scoring is its ability to pinpoint people, process, or system constraints and inefficiencies that have the biggest negative impact on your customers, so you can improve the customer experience.
Determining the right combination of technology and personal touch is also a moving target as customer needs and expectations evolve. Appropriate deployment of customer-facing technology is a key determinant of customer satisfaction. Many companies that have hit the mark have found it's even more challenging to stay on top.
Customer Contact Center employees play a critical role in service success. The customer service employee is the frontline, the face or voice of the company. How they feel about their job and their role in the company will be communicated through the experience they provide to customers. Customer service management's top priority is attracting and engaging top-performing and customer-centric employees. Assembling the right mix of resources to ensure high-quality, cost-effective customer care is a constantly evolving challenge. Selecting, training, managing, and motivating customer care employees requires creativity, enthusiasm, and perseverance.
With this in mind, the Ascent Group conducted its fourth annual call center benchmarking study to better understand how companies are managing inbound customer care. We asked companies to share their experiences to help us identify the practices that make or break a customer contact center. We also asked companies to provide performance benchmarks so we could identify "best performers"—companies providing the best service at the best cost. The results of this research are contained in our report, Call Center Strategies 2013. Research topics included:
Call Center Benchmarking Comparisons by Industry
First Call Resolution Performance
Frontline Training Practices
Supervisory Training
Reward & Recognition Approaches
Monitoring Call Quality
IVR Performance
As part of this research, we asked companies to report call center operational data so we could calculate several performance benchmarks. The following benchmark metrics were collected and calculated:
Cost — Cost per call (Operational & Maintenance costs only — direct labor, contractor costs, overtime, and non-labor O&M; no capital costs or overheads)
Productivity — Calls Handled per FTE (per month)
Service — % Abandoned Calls (total calls handled versus total calls offered)
Service — % Call Resolved on First Contact (of total calls handled)
Service — % Agent Availability (time on phone or available to take calls)
Service — Service Level Conformance (percent of days service level goals achieved)
Service — Average Speed of Answer (Time between the first ring heard by the caller and when the call is answered by an agent or automated system, including time spent in queue.)
We identified the "best performers" for each industry-—above average companies that deliver low cost, high productivity, and high service. We calculated a "best performer" average for these high performing companies. We also calculated an industry average for each of the benchmark metrics, to demonstrate the performance of participants by industry. The following two charts depicts the Unit Cost and Abandonment Rate for our study group.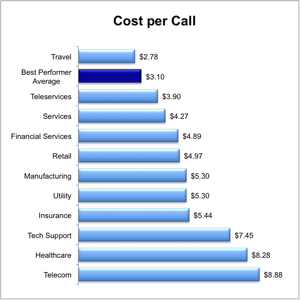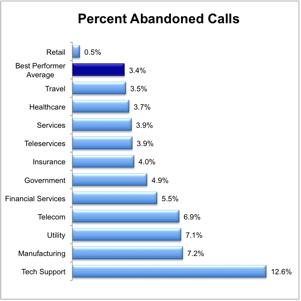 More benchmark performance comparisons are contained in the published research report.
What Did We Learn?
"Best Performing" contact centers are more likely to:
Use behavioral-based screening to identify and select the best candidates,
Empower frontline employees to make decisions,
Train and equip supervisors and coaches to provide timely and constructive feedback and developmental guidance,
Actively reward and praise employees for superior performance,
Commit resources to consistently monitor contact quality and provide feedback,
Monitor call monitors routinely to build consistency, confidence, and monitoring skills,
Offer periodic refresher training for frontline and supervisory employees,
Carefully implement enabling technologies se behavioral-based screening to select the best candidates,
continued…
Download the rest of this free white paper.
Purchase the research report,
Call Center Strategies 2013

.
More information about
Call Center Strategies 2013

.