To get the rest of this free white paper, please click here.
Billing & Payment Profiles & Best Practices
An extract from our research report
With postal rates increasing and the U.S. Postal Service considering reductions in service, it has become even more critical for companies to invest in online billing and payment services. In the U.S., online banking accounts for 53 percent of banking transactions.
While online payment options were a major focus a few years ago, most companies are now focusing on paperless billing, in the hopes of reducing printing and mailing costs. Bill presentment has expanded from paper bills delivered through the U.S. Postal Service to email, mobile phones, and the Internet with the option to receive bills on company websites, at banks, or special payment portals.
In the U.S. today, two out of three phones purchased is a smartphone. The growth in smart phones is placing pressure on companies to introduce mobile apps and options to receive bills and make payments via text (SMS). While acceptance has been lagging in the U.S., a growing range of new mobile banking products and services are being introduced, such as bill payment and presentment, funds transfer, remote deposit, and account management, which should entice more and more customers.
Additionally, talk of mobile wallets, cloud-based proximity payments, and near field communications is increasing as key players in the payment industry test new technologies and payment options. Gartner predicts more than 1 billion smartphones and tablets will be purchased worldwide in 2013. The future looks promising for mobile billing and payment options.
Slow Growth
The Ascent Group recently conducted research into billing and payment practices. We asked companies about billing services and payment plans, including Electronic Bill Presentment and Payment (EBPP). While we confirmed that companies from many industries are actively implementing EBPP options for customers, we also confirmed that customer adoption (based on volume) for paperless billing and electronic payment is growing slowly—averaging 15.4 percent for ebill (of total bills issued) and 16.5 percent for epay (of total payments received) for all industries. While electronic payment transaction volume is still quite low, the number of customers paying through the Internet has doubled since our initial study in 2004 (from 6 percent).
These EBPP options are there for customers, all of our participants accept payments through the Internet (up from 38 percent in 2004) and three-quarters now offer paperless billing (up from one-third in 2004). We are now just waiting for more customers to make the switch.
Mail is still the most popular channel for consumer bill payment among our participants. On average, 44 percent of customers pay by sending a check in the mail. However, this percentage has been steadily declining over the past 5 years. In our 2004 survey, mailed payments represented 68 percent of consumer payments.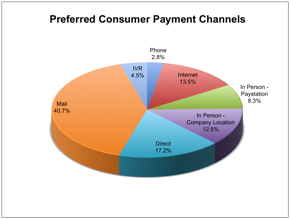 Our study participants indicated that most customers still prefer to pay with paper check by mail—both business customers and consumers. Surprisingly, many consumers and business customers still pay face-to-face—more than 20 percent of consumers and 18 percent of business customers.
However, the percentage of payments received through electronic means is growing and displacing the paper check payment. In addition, companies and third-party payment processors are converting in-person check payments to electronic payments through back office conversion and remote deposit.
The adoption of payment consolidators, or E-Lockbox services, has also helped to streamline electronic payment receipt and reduce system integration needs. An e-lockbox serve as a funnel for all payments—processed mail payments, home banking payments, credit and debit card payments, other third-party payments, and in-person payments made through authorized and unauthorized pay locations. E-lockbox services further boosts the percentage of total payments received electronically by the biller.
When EBPP was first introduced, most companies offered online payment options while continuing to send paper bills to customers. Now, companies are looking for ways to encourage the adoption of EBills and eliminate paper statements.
While many consumers are eagerly paying online, they are not quite ready to give up the paper bill. A study by Forrester revealed that only 16 percent of consumers have opted to eliminate the paper statements. These findings are consistent with our study's findings—only 15.4 percent of customers have signed up for electronic bill presentation.
continued…
Download the rest of this free white paper.
Purchase the research report,
Billing and Payment Profiles & Best Practices 2013

.
More information about
Billing and Payment Profiles & Best Practices 2013

.